Romania villa
This project(Villa for himself)made in 2015,this client introduced by his friend who also our old friend . His friend bought some simple design for his office .He think our product is good .This client is very serious of everything about the product .His avocation is design ,so he can design by himself ,some special for his idea .
Total 45 doors ,each door is different size ,all the room door is one design HDF material,white color ,most Europeans like white color ,gray color ,it is clear .For the kitchen ,they choose the door with glass which with angle ,it looks very nice .But it is a little difficult for us to produce ,because the glass make angle it is to broken ,so must be very careful.But last we made it very nice .
For the main door ,his country in winter it is very cold ,too much snow ,so the door must be solid wood and waterproof ,I suggest him to choose Africa solid wood .It is more strong for this weather .Also on the bottom make special waterproof painting in order to extend the life time .
We use about 45 days to finish ,about one month ship to his country After they get the goods he found lost one frame and 2 liners,he feedback to us . This is the first time client say this phenomenon ,we pay attention to this .First we ask client to take the picture and video of the doors ,and check which size lost ,which color ,In the meanwhile we check the order by our record ,if all the goods delivered .
Last really the frame is still in our warehouse ,we apologized to the customer .We try our way to ship the goods to him again .
We punish the worker who deliver the goods ,also this is a lesson for us next time will be more careful.
He said everyone will make mistake .but the quality is very good .So the customer did not angry with us .Thanks very much for his understand .
If he have friend need doors will introduce to us .This is the best advertisement for us .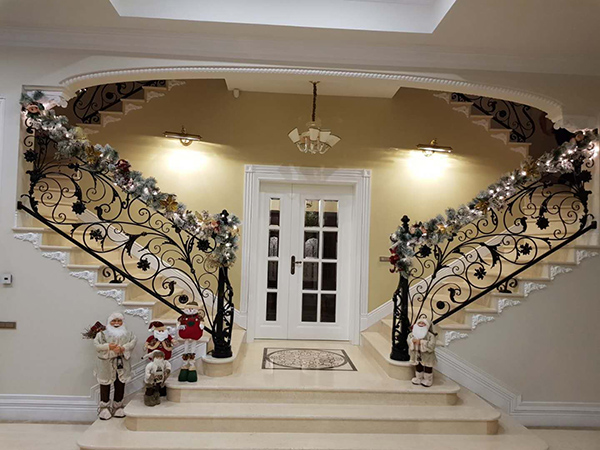 The client is satisfied of our doors ,their family like them very much .
Even the customer is very busy ,he sends us the email for his beautiful house .
He introduces his friend to us ,because he also wants wood doors for his villa .
I think his friend also buy the doors from us after he visits his house .
More and more people will come to us buy the doors after their advertising .